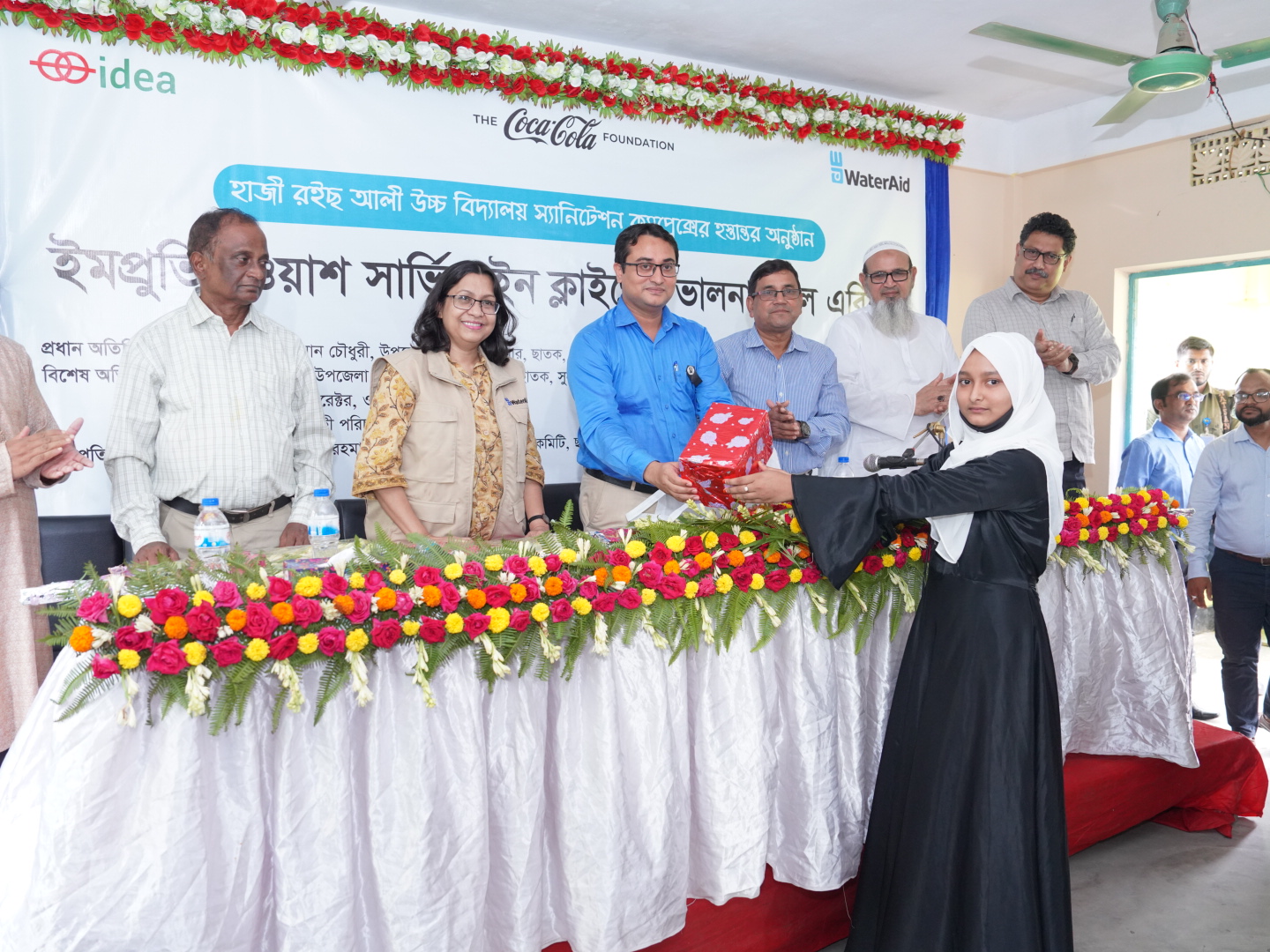 Handover ceremony of Sanitation Complex
Amidst a wave of excitement and gratitude, a remarkable event orchestrated by WaterAid unfolded in one of the most hard-to-reach areas of Bangladesh called Chhatak, Sunamganj. The community came together to commemorate the successful realisation of the project "Promoting Water Replenishment & WASH Services," made possible with the generous support of
The Coca-Col
a Foundation. The event marked the official handover of cutting-edge WASH facilities at Haji Rais Ali Ucchya Bidyalaya and Rahmatpur Community Clinic.
On the 28th and 29th of August, a vibrant gathering of students, community members, and esteemed guests transformed the occasion into a momentous occasion, symbolising a giant leap towards advancing water, sanitation, and hygiene conditions in the area.
This collaborative endeavour between The Coca-Cola Foundation, WaterAid Bangladesh, iDEA, and the local community in Chhatak has been aimed at elevating WASH services for those vulnerable to climate impacts. The ceremonies stood as a testament to the power of collective action, highlighting the tangible positive outcomes that arise from such initiatives in terms of public health, education, and overall community well-being.
The event held on the 28th welcomed Mr Nurar Zaman Chowdhury, the Upazila Nirbahi Officer (UNO) of Chhatak, Sunamganj, as the Chief Guest, with Mr Pulin Chandra Roy, the Upazila Secondary Education Officer, gracing the occasion as a special guest during the school's sanitation complex transfer ceremony. Both dignitaries took a moment to applaud WaterAid's invaluable contribution to the school. Notably, the UNO expressed his aspirations to replicate this successful sanitation complex model in other institutions throughout the region.
In another ceremony on the 29th, Dr Ahammad Hossain, the Civil Surgeon of Sunamganj, was the Chief Guest, accompanied by Dr Razib Chakraborty, the Upazila Health and Family Planning Officer (UHFPO), as a special guest. Dr Ahammad thanked WaterAid and the dedicated iDEA team for their tireless efforts in this remote region. He assured continued support, including the provision of essential medical supplies for the community clinic.
The event was graced by the presence of prominent individuals, including Hasin Jahan, Country Director; Partha Hefaz Shaikh, Director of Programmes and Policy Advocacy; Babul Bala, Programme Lead for Universal Access; K A Amin, Project Coordinator; Syful Karim, Programme Officer – Engineer; Aritra Ankan Mitra, Senior Officer of Communications; and Jennifer Nahar Khan Khadim, Strategy Analyst.
A standout feature of the celebration was a highly successful art competition hosted at the school. The competition ingeniously spotlighted the extraordinary creative talents of our students, all revolving around the pivotal theme of Water Sanitation and Hygiene. The dynamic and innovative approach of the participants, coupled with their unwavering dedication, was a wellspring of inspiration for everyone involved.
As we revel in this achievement, we envision a future where clean water and improved hygiene become accessible to all, transforming communities and fostering resilience. WaterAid remains committed to driving change and ushering in a brighter, healthier tomorrow for all.
#IDEA #universalaccess #climateresiliance #WaterandSanitationforAll #wash #WaterAidBangladesh #TheCocaColaFoundation #SDG6